Greeting's fellow MR2 enthusiast's.

I'm a new member from Canada, who is very long time hard core old school MR2 owner.

I purchased my first AW11 in April of

'85 in Vancouver, B.C.

It was one of the very first to roll off the boat from Japan.

It was Red with 2-tone cloth seats and a moon roof.


IMHO, I still believe that this particular model/version of the AW11 is the least watered down, most brilliant and most pure version of the MR2 that Akio Yoshida envisioned.

I eagerly drove it back to Alberta, and was the first to make that epic 1000

+ km.

drive up through the twisty and treacherous high elevation passes of the Rocky Mountains in a brand new factory fresh MR2.


I repeated the same feat when I bought my first AW11SC in the fall of 1987.

That one was blue mica with blue cloth seats and a t-roof.


I've owned my red 1989 AW11SC pictured below for more than 30 year's now.

.

.

.

.




.

.

.

.

.

and it's minty

!!




A Canadian model, it's one of only 304 SC's imported by Toyota Canada International

(TCI) during the 1989 production year.

What makes it even more rare is that it was one of the

"final fifty" that TCI was forced to take from the factory in Japan.


You might say.

.

.WTF is this dude blabbering on about.

.

.

????


You see back in 1989, MR2's were not exactly flying off of Canadian Toyota dealership lots.

Au contraire gentle reader.

By that time, Toyota had grossly over priced the MR2 into oblivion, resulting in most dealers shunning them.

A fully loaded Supercharged MR2 with factory a/c, t-roof, leather

& taxes catapulted the price over

$24K CDN.

They simply didn't sell anymore, not like they use to.


At the end of the AW11SC production run for North America, Toyota Japan was trying to distribute their remaining inventory, and that's when Toyota Canada was told they had to take 50 of these final hard load SC's.

It was TCI policy back then that each dealership had to take at least one MR2 during the course of the model year, but there were plenty of store's that refused to take any, no matter what TCI said.

Toyota Japan was adamant, hence pressure from TCI continued and dealers reluctantly accepted them.

A few enterprising dare devil store's took multiple SC's from TCI.

A Toronto store took 6

(all at once), a store in Montreal took 6

(ditto), another Saskatoon store took 15

(ditto), and I think a Vancouver dealer took a few also.


A majority of these cars sat languishing, unloved and unsold for several year's, creating the dilemma of brand new SW20's selling for the same price of these left over AW11SC's.

Some even ended being sold for a substantial loss at wholesale dealer auctions, after sitting for several years.

.

.

.

.

.




The remaining unsold AW11SC's were dispersed among the TCI regional zone offices across Canada, financed through Toyota Credit, and sold to management.


Serendipity and happenstance cast a spell in my direction with this car and I was eventually lucky enough to buy it.

.

.

.

.








Over the years, I've done a few performance mod's consisting of

:



* HKS Air Intake with a custom K&N Air Filter

- vastly increased performance over stock

- more bhp


* TRD 4-1 Exhaust Header Manifold that I had ceramic coated

- more bhp and less weight


* Cat Removed

- replaced with ceramic coated straight pipe

- improved exhaust flow

& bhp.

,



less weight


* HKS Pulley

- 12 mm oversize

- produces 2 lbs.

more boost

@ 10 psi


* Trust Exhaust that I had ceramic coated

- it's LOUD

- less weight over stock exhaust


* Ported and polished head


* Cams

- intake

& exhaust


* Tokico 5 way Adjustable Illumina Shocks front and rear


* Eibach Springs and Urethane Bushing Kit


* Hayashi Racing

(JDM)3 piece aluminum wheel's

(15's) x Dunlop Sport SP8000's 205/50

- less


unsprung weight


* Mobil 1 Synthetic engine oil


* Red Line Synthetic gear box oil


* Personal Fitti E-3 Steering Wheel 350 mm.



* Zymol

"Japon"

- the real expensive kind, not the fugazi scat you see

@ retail stores


* Over 200 bhp and 100 kilo's in weight saving.

.

.

.

.




.

.

.

.

.

take out your spare tire, the plastic cover and your tool kit

- they weigh a ton and I for one have




never used them






















This AW11SC has 100% factory original paint, glass, light bulbs and headlights.

No accidents, never been hit or abused and is a non-smoker.

The only parts over the entire lifetime of this car that ever failed were the rear antenna electric motor and OEM factory AM/FM stereo cassette.

It is my personal interpretation of how the AW11SC should have been equipped when shipped from the factory in Japan.

She's a garage queen, and only gets let off the leash to rev and terrorize the unsuspecting on sunny days.



I recently took it out of storage to change the fluids and drive it once again.

As always, laying my eyes on it immediately excites me.

It really is great fun to drive.

.

.

.

.



.

.

.

.and as always, all of her intricate mechanical and electrical components worked flawlessly.

Truly amazing is what it is.

.

.

.





Not a lot of people realize how much of a key engineering role legendary race driver Dan Gurney played in developing the original AW11.

Toyota hired him for his advice on suspension settings, renting Willow Springs Raceway in California for private testing before the car was offered for sale to the retail public.


I once had the privilege to actually meet the legendary race driver/engineer and talk to him about MR2's and other assorted race cars in the pit lane of the USGP F1 race in Phoenix.

.

.

.

.

.


:yahoo:

.

Of course, Dan Gurney was in standing tall in front of the Scuderia's pit garage admiring

the John Barnard newly designed

"coke bottle"

Ferrari 641 when I noticed him.

He was super cool to meet, very down to earth, and a complete 100

% gentleman with a bone crushing handshake and a very infectious smile.

He was very generous towards me and freely gave up his own personal time time and space to have a conversation

.

.

.

.

.

.



.




To this day, I still become a little teary eyed realizing how fortunate I was to have met him.

He was my childhood racing hero, and I'll never forget his grin when I described to him how I watched him win Le Mans and Spa as a young boy on my Fathers black and white Marconi television with the rabbit ear antenna via the BBC feed that was broadcasted on the CBC.

I still keep in touch with his personal secretary, who still works at All American Racers

(AAR) to this day.





My car has the 5 way adjustable Tokico Illumina shocks with the Eibach springs that were sold together as a kit engineered specifically for the SC.

I always have my front shocks set to a softer setting than my rears, and had the Dan Gurney

/TRD toe and camber settings properly dialed in when I installed everything.

I'm very happy with the overall

performance of this kit, but make no mistake, the ride is is stiff and harsh, definitely not for the meek or faint of heart.

It does not have the sophisticated suspension characteristics that modern sports cars have that are able to combine firm no body lean performance cornering with a plush comfortable ride.





With these suspension settings, my AW11SC has more mechanical grip and is more neutral during hard cornering, exhibiting less understeer while allowing me to control rotation using

throttle and steering input.

A

'pointy" front end is what I like and prefer.




Miscelaneous Ramblings After 37 Years of MR2 Ownership


Just in case you haven't noticed yet, I'll give you a hot tip.


I absolutely love MR2's.

.

.

.

.

.



.

When I recently took mine out of storage to change the fluids and put some kms.

on it,

I had somewhat forgotten how awesome it really is, yet is has such humble DNA.


A Tercel front end coupled to a Corolla rear end with that amazing 4AGE jewel of an engine, all assembled/created from the Toyota factory spare parts bin.





Giving it a bath, sitting in it, punching the throttle hard when driving it and hearing that crazy loud exhaust roar with both windows down and t-roofs off, double clutching through the gears, taking the engine to red line while hearing the blower whistle behind your head are the truly beautiful moments that immediately rekindle my on going 30+ year love affair with my MR2.


Speaking of which, as a side note here while trying not to get way off topic, from all my years of experience with MR2's, any kind of

"roof", be it

"t" or a


"moon",

decreases the structural rigidity of your frame/chassis, meaning it will flex during hard cornering.

That's not cool far out and groovy in my books.

Au contraire.

.

.

.

.

.

.





If you want to be a freak, the best solution to avoid this is to find a tin top, as in no roof at all.

Unfortunately, that takes away some of the fun factor of ownership.

A moon roof is your next best option, and they are certainly a very nice option to have.

T-roofs are the absolute worst, offering plenty of chassis flex and are notorious for leaks.

.

.

.

.







SC's were only sold with t-bar roofs in Canada for

'88

&

'89.

SC's with moon roofs were available in the US and Japan.


Having lived in my little fantasy world MR2 bubble for so many years, it's strange to see how different certain things are whenever I now take out my MR2 on the street.


Here in North America, with all the huge domestic Crew Cab 4x4 lifted trucks everywhere, my tiny MR2 feels and looks like a tiny bug that could easily become squished in a heart beat.

Extra care and caution is needed.

Ruts and pot holes in the tarmac that would not adversely effect a normal vehicle now look and feel like I'm driving a 4x4 through the Grand Canyon in the MR2.


Then there's the sudden new interest and

"heat" it now attracts.

In years past, nobody would bat an eyelash at my car.


As late as 2015, I remember taking my SC to a vintage car show and nobody showed any interest or bothered to look at it.

Now, I have to be very careful where ever I take and/or park it.

It's like driving a high end exotic car now.

Most people have never seen one, and are constantly asking me what kind of car it is.

.

.

.

.

.





Gas stations, red lights and parking lots are the staging areas that garner immediate stares and attention.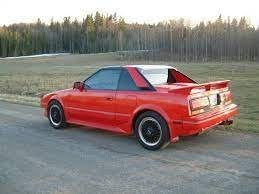 MR2's have now become serious collector cars, and are only going to appreciate.

Being a life long hard core enthusiast, it was a no brainer predicting this would happen.


"They will never be worth anything, and never be collectable.

.

.

.

.ever

" are words that I recall hearing time and time again over the years.

My snobby Euro snob car buddies all snickered at me years ago when I bought my SC.

They don't snicker anymore.

.

.

.

.

.




Way back then I was

"tuning" and daily driving MR2's, way before it ever became vogue in my neck of the woods.


As a matter of fact, at that time it was virtually unheard of in Canada, but was really starting to gain traction and popularity in the US with JDM aftermarket tuners like TRD, HKS, Trust/Greddy, Cusco, and Blitz to name but a few.

You could not mosey on into a Toyota dealer parts department and order any after market performance gear.

This was very much frowned upon and discouraged.


Moreover, all the numerous performance goodies I bought all had to be imported from the US, which of course ended up costing me way more money after paying duty, taxes and exchange.

There was one or two after market Canadian distributor's for some after market performance products, but they rarely had anything in stock, especially for an MR2.

All the after market goodies one wanted were readily available, but had to be ordered from the US, and then drop shipped.

All it took was money and patience dealing with Canada Customs.






$100 K USD prices for minty examples are just around the corner.

Bring A Trailer, a popular US auction website has already sold MR2's

(AW11SC for

$ 51K USD

& SW20 for

$ 61,750 USD) for Pablo Escobar sums of cash.


In the future, price wise ranked in order of value, it's going to be the legendary 2000 GT,

( a Shelby 2000 GT race version recently set a world record sale price for any Japanese car sold at auction

-

$ 2.53 million USD

)

, third generation Supra's, and the mighty MR2's, with certain vintage types of Toyota trucks and Land Cruisers pulling big money as well.



It now seems that the greatest concentration of MR2's numbers wise, and the nicest, most

"minty" MR2's that are left in this crazy world are situated mostly in the sun belt states of the USA

( California, Arizona, Texas

& Florida

), then

Australia, New Zealand and the UK.

Over here in Canada, most of the remaining MR2's are situated on the west coast and interior of British Columbia.




Overall sales figures for Canada including all variants of Mk1's and Mk2's only added up to a grand total of 6132 cars.


USA sales figures totaled 123,845.

These numbers begs this question.

.

.

.

.

.

.

.WTF happened to all of these cars and where the hell did they all go

????





Minty AW11SC